Slide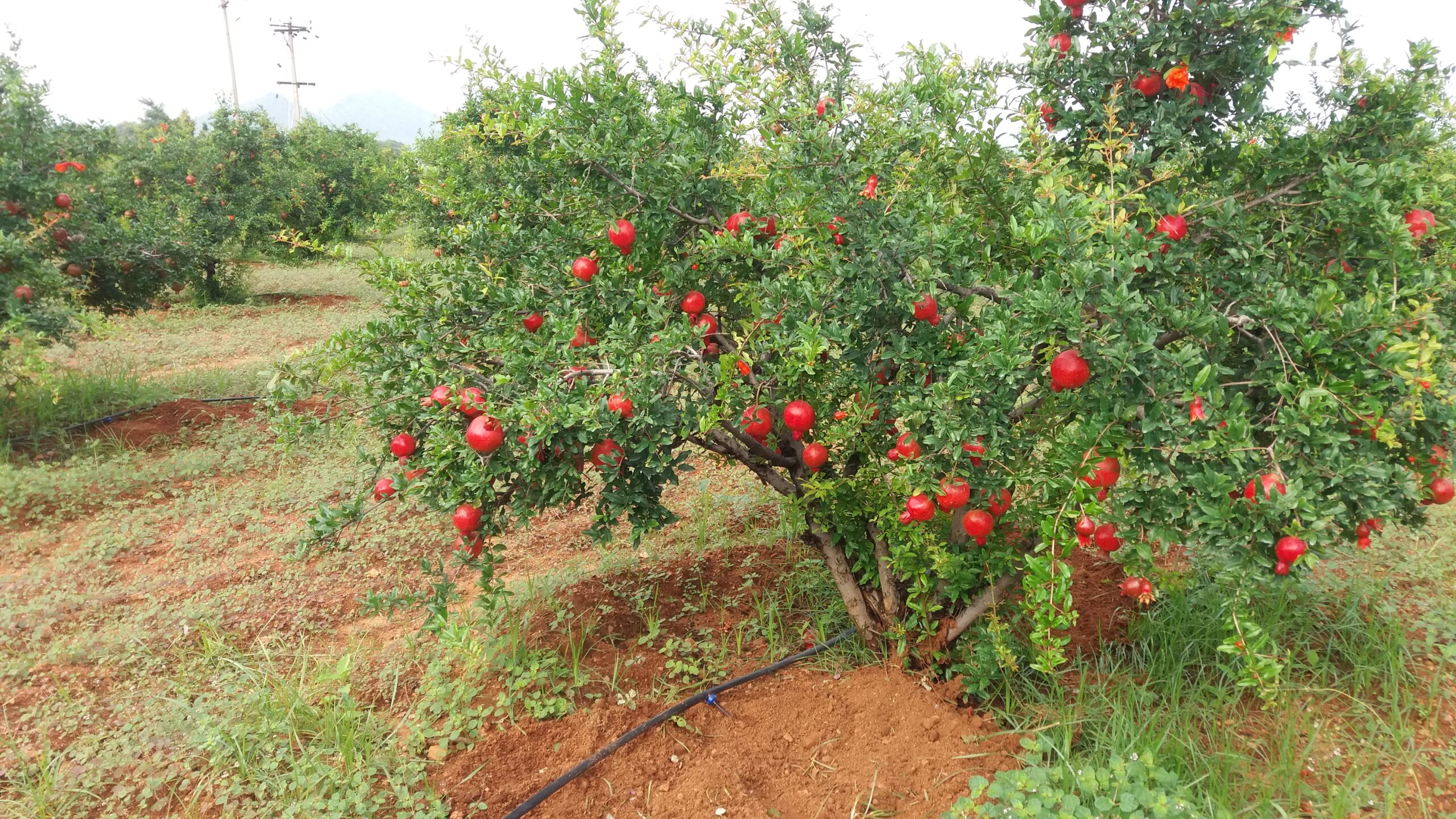 A First of its Kind Measured Root Zone Moisture Irrigation Innovation by Centre for Environment Concerns, Hyderabad
Slide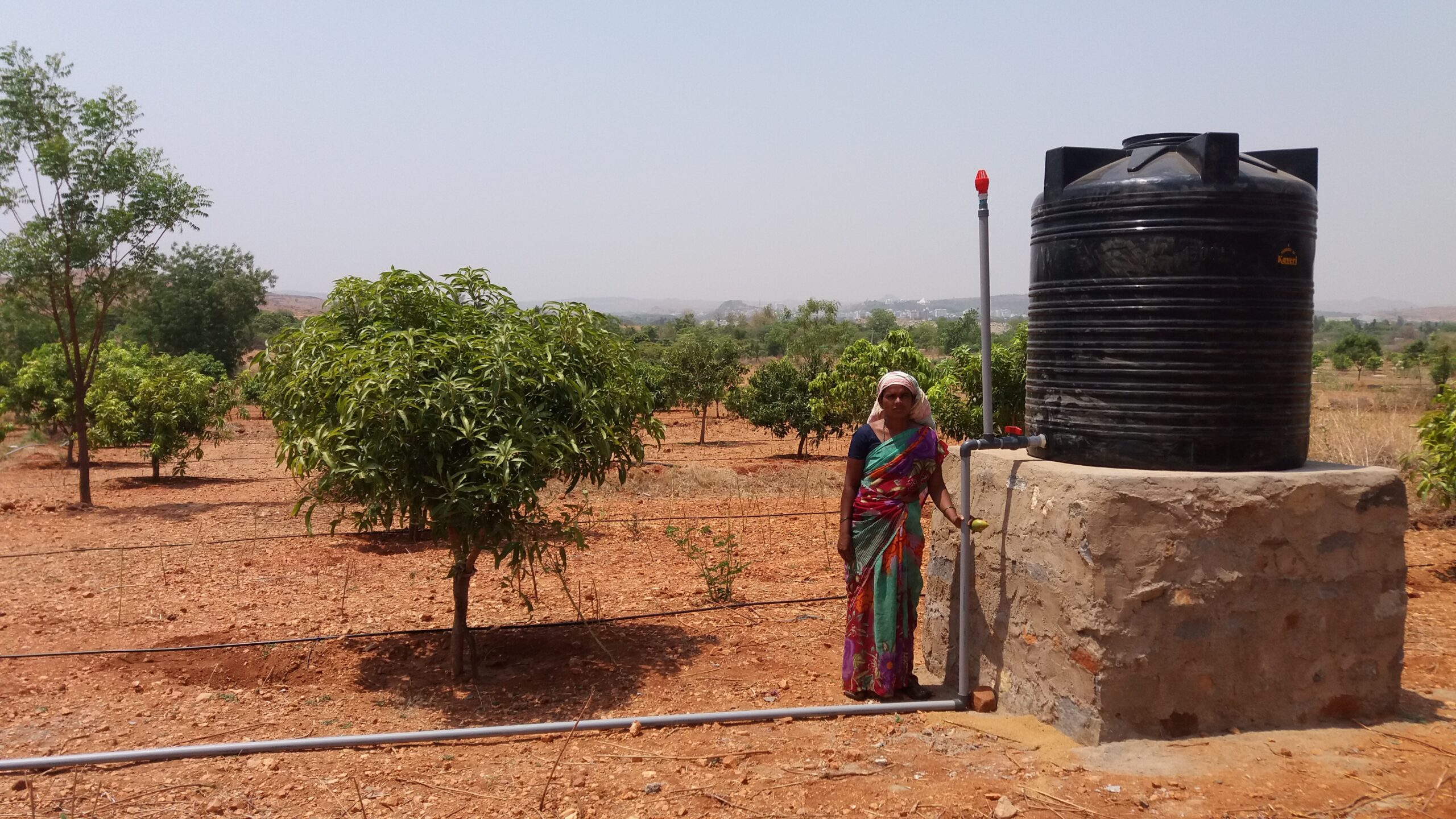 Measured Root Zone Moisture for water-soil-plant synergy to optimize water savings.
Microbe's with native inoculums as bio-diverse biological multiplication for Soil health.
Mychorisae for root health to maximize plant nutrient uptake
Management of data for farmer confidence, preparedness & efficient use of productive resources
Slide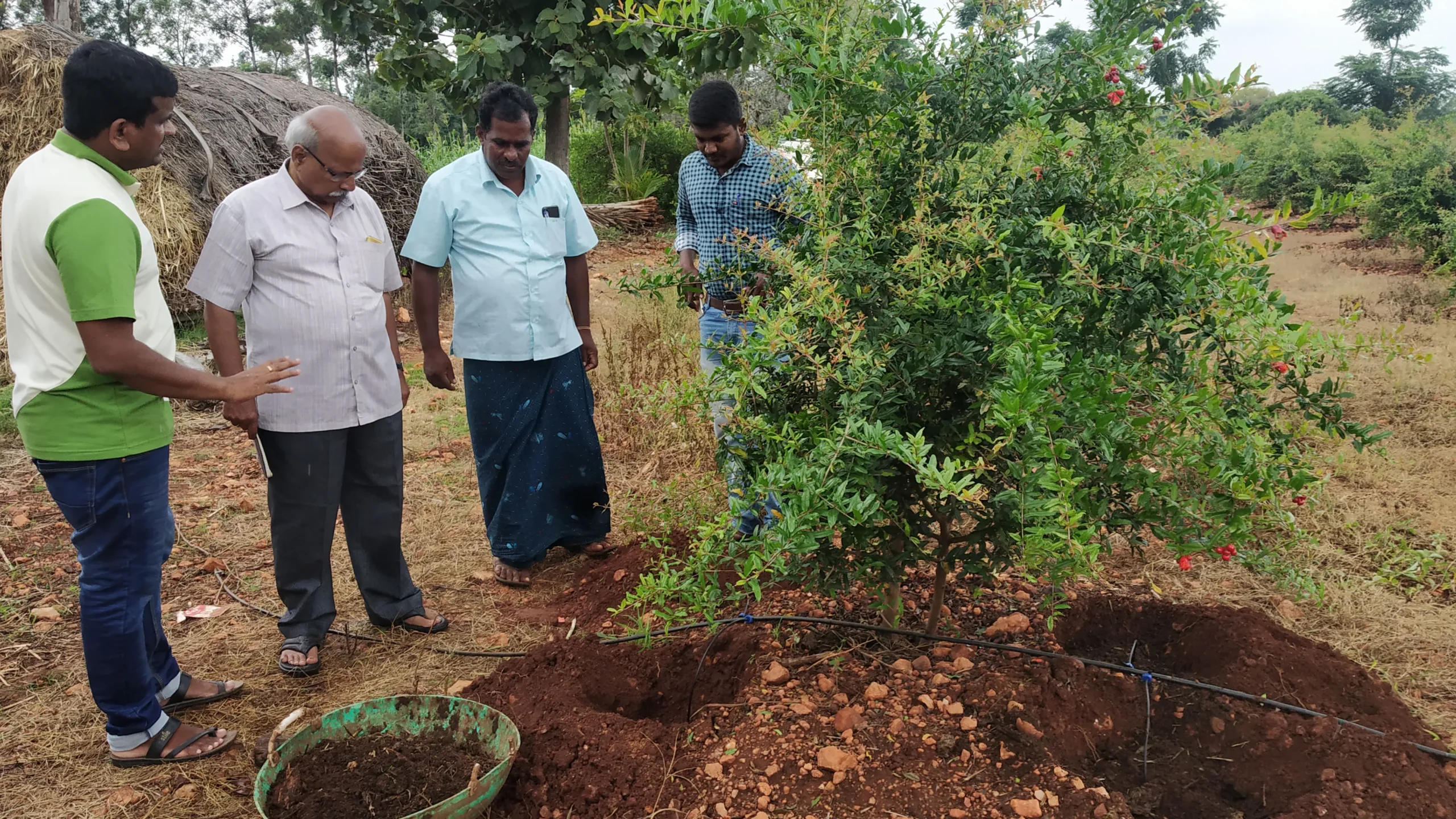 A study of Drip compared to SWAR showed 40% less water application, 10% higher yield, low weeds, early fruiting, more bio-mass and higher root-to-shoot ratio, and low weed growth.
Multiple Fields showed SWAR to use 40-60% less water, 10% higher yield, 20% less nutrient application, 30% less electricity, 75% % less labor cost on weed control, and ration water to the moist root zone to end high fruit tree mortality, saving a valuable asset.
Slide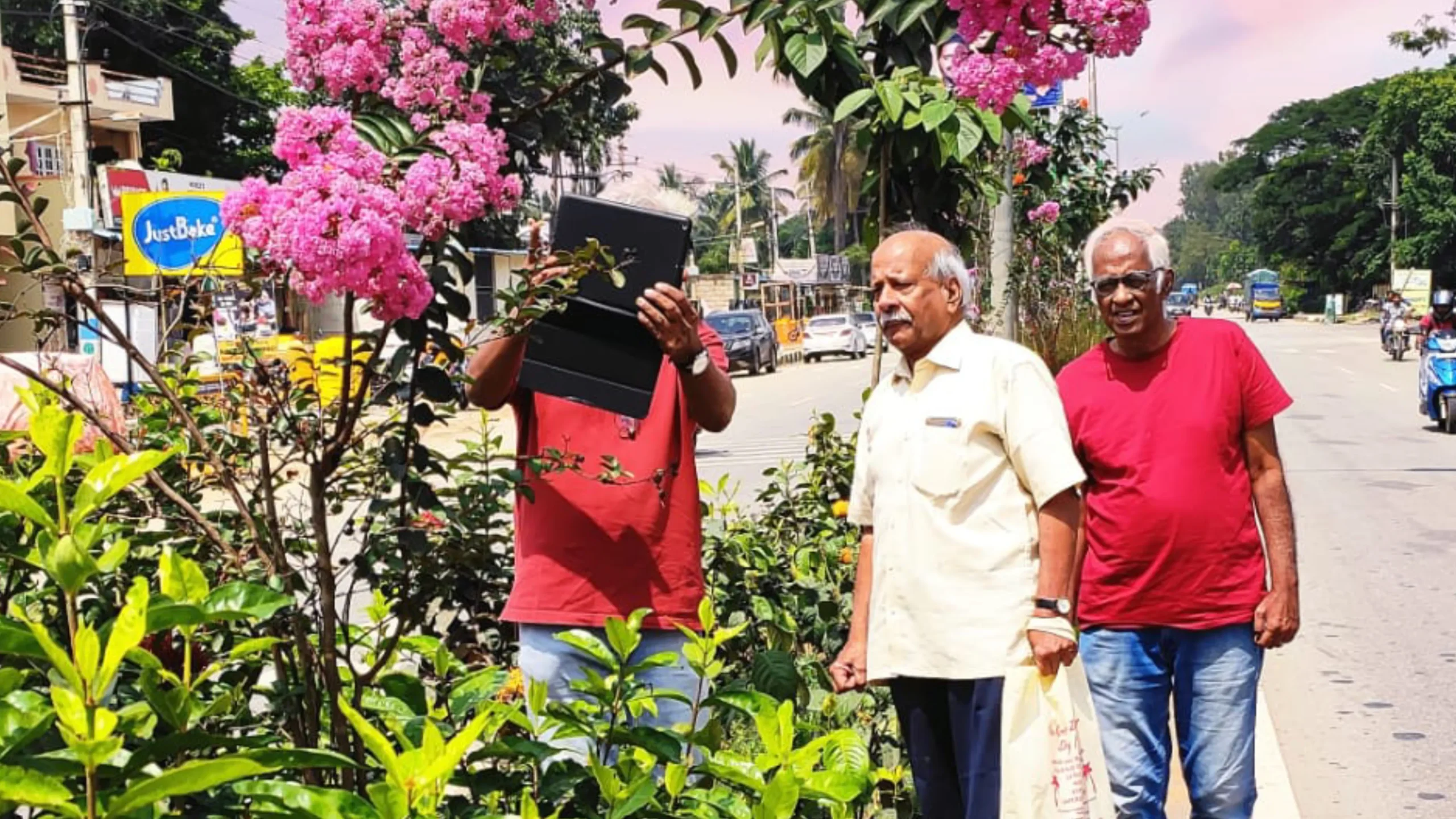 Ecological Dividend on Bangalore road median to foster bees & butterflies, bio-diverse species, water harvest, and use efficiency and end release of toxic gases.
System of Water for Agriculture Innovation (SWAR) won
Indian Agriculture Research Institute ARISE PUSA KRISHI Award 2022
Federation of Indian Chamber of Commerce (FICCI): Jury Special Prize for Innovation in Water Technology 2022.

ACT Environment Trust grant Rs 50 Lakhs to develop business entity for impact vide scale 2022
SWAR earlier version won the Paris International Agriculture Exposition
Champion Prize

SWAR earlier version won the Securing Water for Food (SWFF) USAID prize money of One
Hundred Thousand US Dollars.
CEC won Expo 2000 Hannover "Sustainable Development of Marginal Rain fed Crop Lands & Livelihoods award. UNDP took CEC approach for wide adoption and led by women.
Knowledge, Out of Box Thinking, Next Practices with Strengths & Synergy drives CEC 
Our logo is: Choices, Voices, and Capabilities with frugal innovations in ideas, practices, public policy and development dividends.
Strategy: Develop and deepen next genre areas and activities aligned with our mandate by hearing the voices of people, women, and experts followed by volunteering outsiders to work with and enhance our core capability to deliver the tasks using multiple agencies followed by impact assessments and scaling.
1984-1990 Environment education, studies on hotspots, training & capacity building of activists
1990-2000 Dry land farming, Studies and Development of Fallow lands, Participatory forestry,
2000-2005 Integrated Pest Management on cotton, Dialogue on river water management
2005-2012 Technologies and Field implementation to enhance National Rural Employment Scheme
2012-2018 Efficient Water Technology Innovations suiting tropical countries like India
2018- Soil health & Water Synergy to maximize productive natural resources
2022 – Deepen and demonstrate Water-soil-energy-plant-climate change nexus for planet health
Transform irrigation to CEC innovation of "System of Water for Agriculture Rejuvenation (SWAR), a first of its kind measured moisture at root zone and microbes for the soils.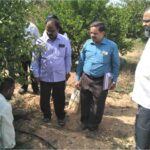 SWAR irrigation technology innovation with 60% water savings compared to drip systems is co-created with farmers and scientists by defining "Ideal Irrigation Architecture Suiting Water Scarce Areas Drought Areas"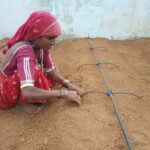 Tribal women install SWAR at homestead in District Mahaboobnagar to grow vegetables for household nutrition and share with community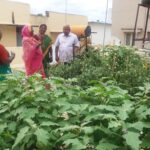 Urban roof top cultivation much liked by women to see flowers and vegetables grow and the enticing of bees, butterflies and birds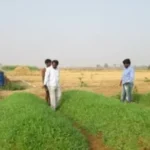 Living Compost: CEC innovation of locally made soil Microbes and Mychorisae assist to maximize water-soil-plant synergy to produce healthy food and sustainable crop production.
Centre for Environment Concerns (CEC) is established in 1984 by a group of academics and activists to pioneer work on the environment in school education, capacity building and train activists, studies on ecological hotspots and advocacy on environment-development issues and with solutions. It has diverse skills in fieldwork, research, extension, technology, advocacy etc. CEC addresses gaps in constructive work and avails opportunities vide innovations and ideas in the areas of process, products, and practices on environment-development interventions. CEC depends on volunteers, professional, experts, and rural communities to address societal goals in its institutional mandate. In the last decade, CEC focus was social protection and natural resources management, wherein it made a significant contribution to the thinking and implementation of Mahatma Gandhi National Rural Employment Guarantee Scheme. Mr K.S. Gopal served as Member of Central Employment Guarantee Council and Chair on the Committee of Works for Small Farmers in MGNREGS.
CEC with farmers co-created and field validated the irrigation innovation of System of Water for Agriculture Rejuvenation (SWAR), a first of its kind measured moisture at plant root zone that uses half the water compared to drip and supplemented with a rich ecosystem of soil microbes. SWAR is witnessing healthy plant growth even in peak summer and is the only system to ration water further to save fruit trees of farmers. Moisture at root zone and microbes in the soil is our technology offer to grow horticulture and forestry crops in drought-prone areas facing a severe water shortage. The head of CEC, Mr K. S. Gopal worked in rural areas for over three decades, written several books and taught management at the administrative staff College of India. In 2009-11 he was the "Scholar in Residence" at Tata Institute of Social Sciences, Mumbai and mandated to bring field practice into theory.